The sisters who went viral after delivering their babies 20 minutes apart just took the most adorable shot to celebrate their babies' first birthdays




Corey Struve Talbott and her sister, Katie Struve Morgan, have always been inseparable—but recently, a shared experience made the two even closer.
"My sister and I are a year and ten months apart, so we're really, really close in age. We actually coined the term 'sticky sisters' 'cause we always stick together," Talbott told Parents.
As it turns out, they even stuck together in pregnancy…and delivery. "Three days before Christmas [2015] I was really late and she said 'let's get a pregnancy test,'" Talbott told us. "And it was positive. All of sudden she's like 'you're going to die but I'm pregnant too. I was surprising you guys on Christmas Day.'"
The sisters, who learned their due dates were ten days apart, both ended up surprising their family on the holiday…and about eight months later, both sisters gave birth just 20 minutes apart. They even shared a doctor, who ran out during Talbott's labor to deliver her sister's daughter.
Before they gave birth, the sisters enlisted photographer Brenden Boggs of So Cute Photo to shoot a side-by-side maternity shoot, which got lots of attention—and one year later, they recreated the viral image to celebrate their daughters' first birthdays.
"The babies just turned one on August 10, and Brenden has just been our photographer from the beginning. We were like 'well, she's got to do our [first birthday]photos, and so I reached out to her and…she's like 'why don't we re-make your maternity photos with the babies?' And we were like 'oh my gosh, that's such a great idea, let's do it.'"
The before-and-after shots are reflective of the close relationship between the sisters and their daughters, Indie and Ryatt—the families live just five minutes away from one another, and Indie and Ryatt are growing up like sisters (or, more accurately, twins!)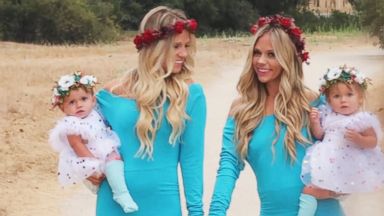 "Everything we do is together. Even just everyday stuff. It's been really nice to have the support. You can call your sister for anything, but it's so much better having babies that are basically twins together," Talbott said. "We say it's magical all the time…We just believe we get to do this together."